Scheduling Appointments
We realize that our patient's time is valuable and we make every effort to see patients at their scheduled time. However, because of nature of services (critical care/emergent) provided by our physicians in the hospitals, occasionally our office falls behind schedule. We ask for your understanding. We also request that patients provide as much advance notice as possible when running late for an appointment or when needing to cancel an appointment. With this advance notice, the time can be scheduled for another patient.
Office Hours
Our office is open Monday to Friday from 9:00 A.M. – 5:00 P.M.
Our office works by appointment. Patients cannot be seen on a walk-in basis, since we cannot guarantee that a physician will be on the premises at all times.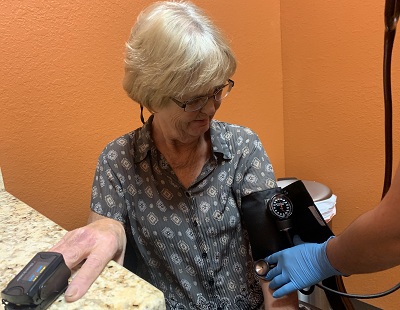 We ask that you please schedule your return visit when you check out. If you are unable to schedule at that time, you may call the office during normal business hours to schedule your follow-up appointment. Since the physicians split their time between the offices and the hospitals, we ask that you call 3 to 4 weeks in advance to schedule a routine or follow-up appointment. This will assure your being able to see the physician of your choice at a time convenient to you.
What to bring to your Appointment?
If you are a first time patient, please plan on arriving early in order to complete a Patient Registration Form, if you have not already done so. Also, please bring the following items to the appointment: Insurance card/cards
Referral forms (if required)
List of all prescriptions and over-the-counter medications that you are currently taking.
Any required co-payment.
Pertinent medical and surgical history information and other pertinent medical records if available.
Office Fees

Payment is required for professional services at the time they are rendered. If you are covered by Medicare, a PPO (preferred Provider Organization) or an HMO (Health Maintenance Organization), copays and /or coinsurance payments are due at the time of service. Please read our financial policy carefully for further information.
Insurance Information
We are a participating Medicare Provider. We accept assignment of all Medicare benefits. As a courtesy we will file your supplementary insurance. You may still be responsible for your Medicare deductible dependent on the requirements of your supplementary policy.

Patients that are members of an HMO need to bring a referral from their primary care physician authorizing their office visit and/or testing. Patients who fail to do this cannot be seen. We will be happy to reschedule your appointment so that you can obtain the necessary authorization. Obtaining this authorization is your responsibility.

Please Note: Florida CardioPulmonary Center, participates in a variety of plans and there are many differences within those plans. Our staff does their best to keep abreast of what the different plans cover. However, due to constant changes with insurance coverage, it is ultimately your responsibility to know what your insurance plan covers. If the insurance company does not pay the full balance or denies the claim, any unpaid balance is due within thirty (30) days following the appointment.

Please call us with any questions regarding which insurance plans we accept or other billing concerns. Insurance coverage and benefit questions should be directed to your insurance company. It is your responsibility to notify us of any changes in your insurance plan.
Cancellations
If you must cancel an appointment, please call our office as soon as possible. Appointments for Nuclear testing must be canceled 24 hours in advance or there will be a charge for radionucleide agents (medication).
Phone Calls
Our physicians at Florida CardioPulmonary Center, are on call for emergencies. In life-threatening situations, please call 911. Please limit after hours calls to true emergencies. Routine and administrative calls are best handled during normal business hours when office staff is available.

When you call our office you will have the option of utilizing our automated system and leaving a message for the appropriate department. If your need is immediate, you may speak with our receptionist and she will take your name, number and a brief description of the reason for your call. This information will then be given to the appropriate person and your call will be returned before the end of the day.

If the nature of your call is medical, the clinical staff may return your call to gather more information in order to allow the physician to review your case more thoroughly and then inform you of the physician's recommended course of action.
Prescription Refills
It is preferred that you call your pharmacy for medication refills. If there are no refills left on the prescription, the pharmacy personnel will contact our office. This will expedite the processing of your request. Please feel free to call our office if for some reasons you have not received your prescription refills.